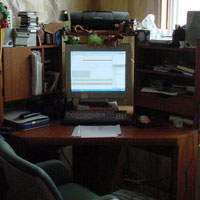 This Web site was started in 1996 by James Yothers in his attempt to find a living. During which time has lead to 5 face lifts by Jan 1 2004. Originally intended to allow email that was not business related to be aquired that somewhat related to himself and not another ISP.
The Yothers Web pages were housed and served by SVI South Valley Internet located in San Martin Ca. Very little space was alotted and a simple 4 page site was placed. Very few knew of its existints, and even less actually went to the site.
During a dark period in his life (meaning jobless) James had to resort to his own abilities and fledgling company to bring food to the table. TTF Thought To Finish enterprises LLP grew and grew. Expanding the technical portion to include web and web design, all the sites became up to date. Except the Yothers Web Site. Back seat would be the position until someone mentioned putting pictures of the family on it. Hmmmmm........
The ISP cost too much to house the pictures, the current format did not handle browsing pictures well, only one thing to do. James grabbed a working 166Mhz PC, added the maximum about of RAM it could handle (384MB), through a (at the time) huge 8GB hard disk, and placed the website on it. Latest technic of frames became the structure of the site allowing scrolling threw the families and the pictures.
Family and Friends would email pictures or snail mail them to James. Who then spent hours scaning them into a digital format and cleaning them up to load quickly on the web. Being the single point of failure in the long run. James picked up a full time job, was married, and was running a company all single handed. This left very little if no time to work on the web site. Pictures would come in, and the programing would not get done.
A way was needed to make this more automatic.... but how?
The forum was then born, sitting on another "server" with the assistance of a friend. PHP, Linux, MySQL, where used to create the forum. It gain much traction in the initial beginings, but by that time folks had began to ignor the site because nothing ever changed.
James tried to add links, and information to the site to attract visitors but to no avail. So once he remarried, moved to Minnesota, finally upgraded the site to a 1.8Ghz server with 100GB of RAID5 UltraSCSI Disks with 1GB of RAM, things needed to change. The site was added to look better, and navigate more efficiently. Grabbing pictures that were presumed lost (James found a backup) and put them out there. At this time he realized that even that was a short coming to the capabilities that he had learned over the years. Bringing the latest technology of ASP.NET with C# (sharp) programming skills to the Yothers Web Site. Now that life has become somewhat of a plateau for him, only his children will drag him away from it now.
Copyright 98'

2021 © Yothers Family - All rights reserved